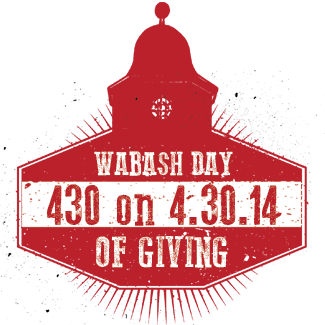 Wabash College's first Day of Giving in April was a great success, raising over $460,000 in a single day. As part of the Day of Giving, the Psychology Department created an "Affinity Challenge" to raise money to support student research by Wabash students (through the Special Psychology Fund).
We created the Special Psychology Fund last year, to help us support a wide variety of student research activities. Currently, the Psychology Department has one endowed fund, which supports a student internship each summer (the Parks Research Internship, which honors Professor Eldon Parks). But, we do not have other endowed funds to support student research (outside of our annual departmental budget).
On the Day of Giving, our Affinity Challenge did not start until the afternoon, but even so we received 17 donations, for a total of more than $400. Next to the total for the day (>400k), this would seem to be a modest amount! But, it is important to note that before 4/30, only one person (a Psychology faculty member) had made a donation to the Special Psychology Fund, so this was a dramatic improvement! And, we were impressed with the diversity of donors, who included alumni, current students, faculty (in Psychology and other departments) and friends of the College.
With the funds that we have received so far, we will be able to send a recent Wabash graduate (Brad Wise, '14) to attend a national research conference in D.C this fall, to present on work that he did for his senior capstone research project with Dr. Aubele-Futch.
Over the next few years, we are hoping to grow the contributions to the Special Psychology Fund, to continue to support our research with Wabash students, and to provide them with more opportunities to conduct and present excellent work.
Thank you to everyone who contributed to the College, whether on 4/30 or any time. We appreciate your support for the work that we do with Wabash students. If you are considering making a donation to Wabash, you can earmark part of your gift for our psychology students by directing your donation to the Special Psychology Fund.